Your slides
don't have to be horrible

!
Download your free speakers kit:
"Speaker's Guide to Effective Visual Presentations"
---
Dear Speakers and Subject Matter Experts
Years ago, when I began my long career in graphic design, I discovered that when you add the emotional power of pictures to the factual ideas that words can carry you have a force greater than the two by themselves. Effectively combining words and images in my designs has been my secret super-power ever since.
The Speaker's Guide to Effective Visual Presentations contains my new eBook, "The Art of Presentation" plus 6 super valuable eBooks and factsheets.
You will get a look inside how I create that perfect presentation specifically for you, your message and your talents. But it is about more than just pretty slides and well-chosen words. It is a glimpse at how I match the look, the feel and the message to you, the presenter. I try for a seamless fit, for slides that provide the perfect visual context for your comments. I want you to be confident and to present yourself as the world-class professional that you are. And I always try to remember: it is not about my slides, it is about you.
Topics include:
The power of emotion in Images
The Magical Combination: An image plus a few words
Successfully including a video in your presentation
Creating a walk-in experience
Setup slides head off technical snafus
Using quotes to extend a presentation's Credibility
The black slide: a simple but powerful tool for presentations
Visuals can help build in humor
Presenting numbers effectively
Just use the form on this page to leave your email address and we will send this very valuable speaker's guide to you.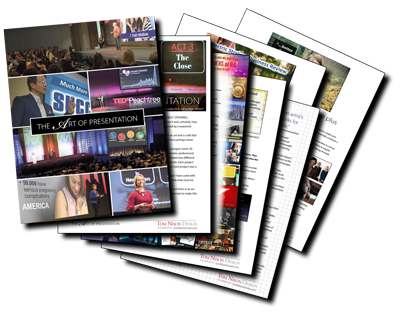 Claim your free copy:
"Speaker's Guide to Effective Visual Presentations"
Including "The Art of Presentation" eBook and 6 more incredibly valuable downloads that will supercharge your presentations.
Included with your free eBook…
To convince you to jump on board I am including some of my most valuable and powerful downloads.
Another valuable eBook: 10 Super Common Mistakes Speakers Make with PowerPoint (and how to fix them!)
5 Cool Tricks fact sheets — a collection of my most popular "how-to" articles including "What to do if you are stuck with a horrible PowerPoint deck"
And of course "The Art of Presentation" my revolutionary look a how presentations should be created.
Please use the form to the right to access your free download.