Your presentation
is too important
for bad PowerPoint.
Our workshops show you how to
connect more, motivate more and
sell more with PowerPoint…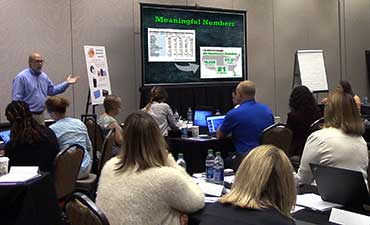 PowerPointCPR Onsite Workshops are an exciting, highly-interactive and just plain fun way of improving your organization's presentation abilities with PowerPoint. My goal is very simple: to give you real-world tools and techniques, to practice them in an engaging adult-learning setting and to help you and your team become comfortable presenters with visuals.
I promise you this: As a result of attending these workshops your organization will be able to connect more, motivate more and sell more than you ever thought possible with PowerPoint.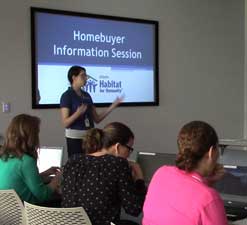 Attendee participation is at the core of my small group workshops. Each participant is requested to bring a past, current or future project that they will present, receive expert and peer feedback and then fine-tune for maximum effectiveness and clarity. In the one- and two-day workshop ample time is allocated for editing, revisions and additional presentations. Attendees learn through feedback, as well as, by giving feedback to others in the group.
The large group 60-90 minute presentation is a fast-paced, high-content overview of how to build and deliver effective PowerPoint. It can be used as a company-wide introduction to presentations which can be followed up with small group workshops for critical team members.
Content areas that are most often requested by our workshop participants:
The 3 core Best Practices and how to apply them
Tips, tricks and techniques learned from 30+ years of building and delivering presentations
Why so much of PowerPoint is horrible and how to avoid the traps
How to structure a clear, effective presentation
Basic presentation skills when using visuals
Using slides to help cue the presenter and build confidence
Where to find quality, rights-secured images (and avoid legal issues!)
The basics of slide design
Bullets or no bullets?
Working with templates and corporate guidelines
Creating a repeatable, logical workflow
Opening and closing techniques
Effective storytelling with PowerPoint
When and why to use handouts
Why "slideuments" make for lousy presentations
How to never again read from your slides
Light vs. dark backgrounds, using color and type sizes
Preparing for and avoiding the inevitable technology failures
How to look professional and be the star of your next presentation
Please connect with me at 770.289.0752 or tomn@tomnixondesign.com to discuss your particular presentation needs.

A totally cool, live 5-minute presentation (with no sales pitch) on Skype or in person to show you just how much your organization will benefit from one of my workshops. If you love it (and I know you will) then book a one-day workshop for your team within 90 days and I will take $1000 off my regular fee. ($250 off a 60-90 minute, Fast-track, Interactive Seminar).  Contact me at 770.289.0752 or click here to get started.
All my workshops are customized and personally led by me, Tom Nixon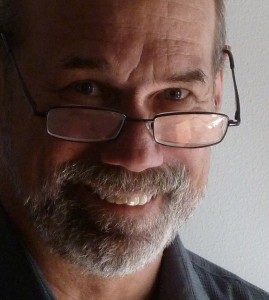 I have spent most of my 30+ year career helping businesses and their leaders communicate effectively — assisting professional speakers, subject matter experts and executives with their live presentations. In these fast-paced, content rich offerings I reveal the the biggest problems with programs like PowerPoint and how to effectively fix them. Attendees will understand the basics of an effective presentation and how to create and deliver visuals that help them tell their story while connecting with and engaging their audience.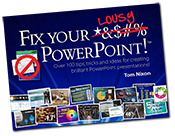 My new book "Fix Your Lousy PowerPoint" is the basis for all of my training sessions.
Contact me at 770.289.0752 or info@tomnixondesign.com to discuss how your team can turn PowerPoint failures into professional presentations that showcase your message powerfully and effectively.

Please connect with me at 770.289.0752 or tomn@tomnixondesign.com to discuss your particular presentation needs.